Last month I was promoted and given an additional, more public facing role — in addition to my reception duties, the team I'd create would also stand and greet customers: kind of like being a hostess for the business. Given that I work in a very image-oriented establishment, the idea of being so visible petrified me. Happily, that part of things has been on hold while the promotion/additional responsibility part of things takes the fore.
But soon I'll have to face the music–or rather, the customers–and I cannot do that with my current wardrobe. Those of you who follow me on Instagram know I like to have fun with my outfits! But the greeting role requires a more conventional appearance.
This past BMV sale I succumbed to the $3.19 per pattern pricing and purchased a number of bland, easy to sew offerings to beef up my work wardrobe. They arrived last night and yaaaaawn…I was totally bored with them.
Butterick B6258 is a great choice because it's a wardrobe pattern — getting five different garments for $3.19 is practically theft. For my work wardrobe, view B is a fast and easy to sew top, and pairs well with view D, the skirt.
McCall's M7297 is the other pattern I got for its top patterns, namely the long sleeved option of view C. It looks a little nurse/hospital ish, but the band is an opportunity to play with contrasting fabrics, which I love, and in a knit fabric it can be worn with the skirt above.
McCall's M7258 is another bargain: two tops and two bottoms for that sale price. Winning! And a plus pattern in extra large plus sizes is a rarity, so it's really valuable. View D, the pants, seem to have a modern fit but the real winner is the skirt, view C. I have yet to make a flattering A-line skirt, perhaps starting with my size will help.
Butterick B6214 is my pick to go with the aforementioned skirt. Specifically, view D with the hem of view C. It's actually a tunic, designed to be worn with pants, but can easily be shortened to be worn with the skirt from M7258.
However, all of that misses two key elements: my personal style, and some kind of finishing touch!
I'm simply not a bland wardrobe person, and don't want to suddenly lose myself (further) in order to execute my new role. I thought of adding a sleeveless cardigan to these outfits, but decided that's too casual. Then Erica Bunker's newest blog post caught my eye. I've really warmed up to her blog because her styling advice is spot on, every time. Anyway, guess what her post was about? A long, sleeveless blazer! What a perfect way to polish off both of my boring new outfit plans!!!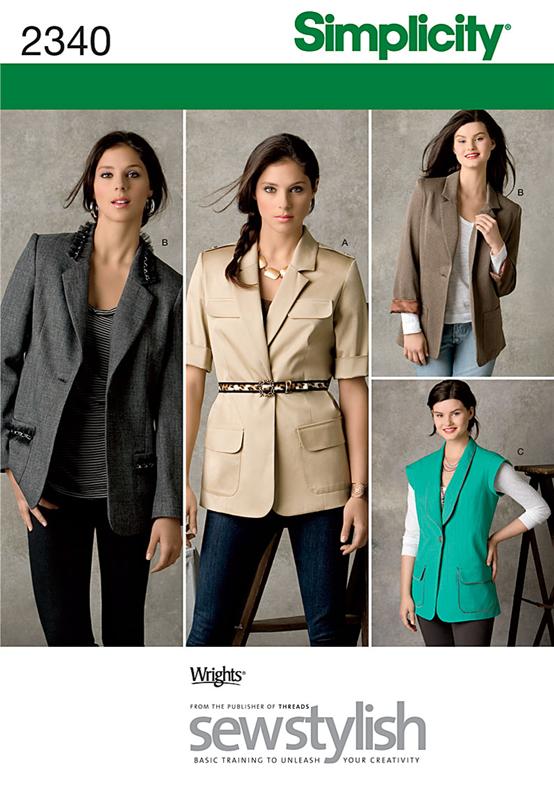 I just happen to have a plus size blazer with lots of cool embellishment ideas in this Simplicity pattern. It's long, it's got pocket variations, only takes about two yards of fabric, and it runs large enough that narrow seam allowances on the size 24 will make it fit just right, no pattern grading needed. With fusible interfacing and a slightly beefy underlining, I hope that a few of these will give my work looks polish and pizzazz.
All I need to do now is finish cleaning my studio so I can actually sew…le sigh.