Last week Monday I started a new assignment, working around $100,000 cars in a neighborhood covered in trash and puke (why yes, I *am* bragging about my hometown). I wanted to dress to impress on my first day, really knock'em dead, but as so often happens my grand plans crumbled into a passable lesser option, and I totally stumbled my way through that first day.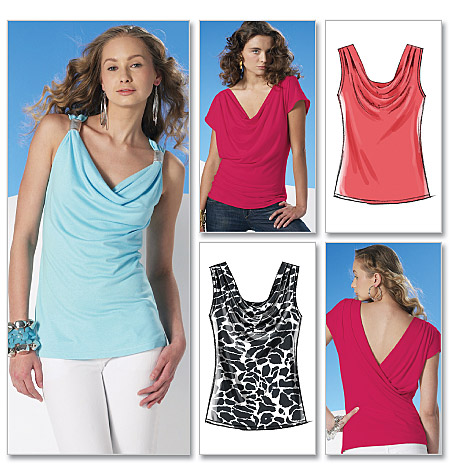 On Sunday night, with a few hours before bed, a large scrap of lightweight ITY, and my TNT top pattern, I whipped up something … ugly. The cowl drooped right down over the fullest part of my stomach, and the flat back neckline made me look like a linebacker. Well, you know what, sewers? When in doubt, turn it around. The flat neckline was a high but viable boat neck, and the cowl draped well down my back, exposing some sexy, sexy skin.
To complete the outfit, I grabbed my new Cynthia Rowley cardigan — an eagle-eyed friend picked it out for me — a pair of black ankle pants, and my trusty brown Robin Hood boots. It wasn't until I got home and did this photo shoot that I realized it: I looked terrible! My outfit was perfect for looking cute as a woodsman, but terrible for making a good first impression.
You can only make one first impression, but I've learned that it's never too late to make a good impression. So I made a bunch of other outfits using my new top as the foundation, and came up with the following (superior) looks: