I'm tired.
I had a few hours yesterday evening to sew, which I planned to spend on pattern work. Dutifully, I cleared off my sewing table and pulled out Butterick 5391, Simplicity 1462, and Burda Style 7063. I like to work on several patterns at a time, one step at a time. Right now I'm on the 'analyzing and enlarging the pattern' step for about twelve patterns, with half of them finished. Pattern work takes me a long time, so I set aside huge chunks of time — 3 to 8+ hours– for it.
First up was Simplicity 1462. A cute top in a raglan sleeve style. I generally don't sew raglan sleeves because I'm convinced they'll look terrible on me, but this blouse is so cute! The pattern goes up to size 22 (44″ bust), so I've got lots of width to add, and perhaps even a touch of length. However, the pattern has a bajillion pieces and after the hectic week I've had, I didn't feel like putting in the work. So, I spent awhile chatting with my bestie.
Next was Butterick 5391. I traced off View C but decided I want to sew View D. However, they're more different than simply tracing D's leg onto C's hip and reviews suggested these pants run very large. So, View C it is. This pattern goes up to a size 24 (48″ hip), so much width and some height needed to be added through the front and back pattern pieces, and the waistband. But maybe not much? More BFF chatting, plus I turned on Netflix to watch Bones. I decided I'd cut the pattern as-is and muslin it.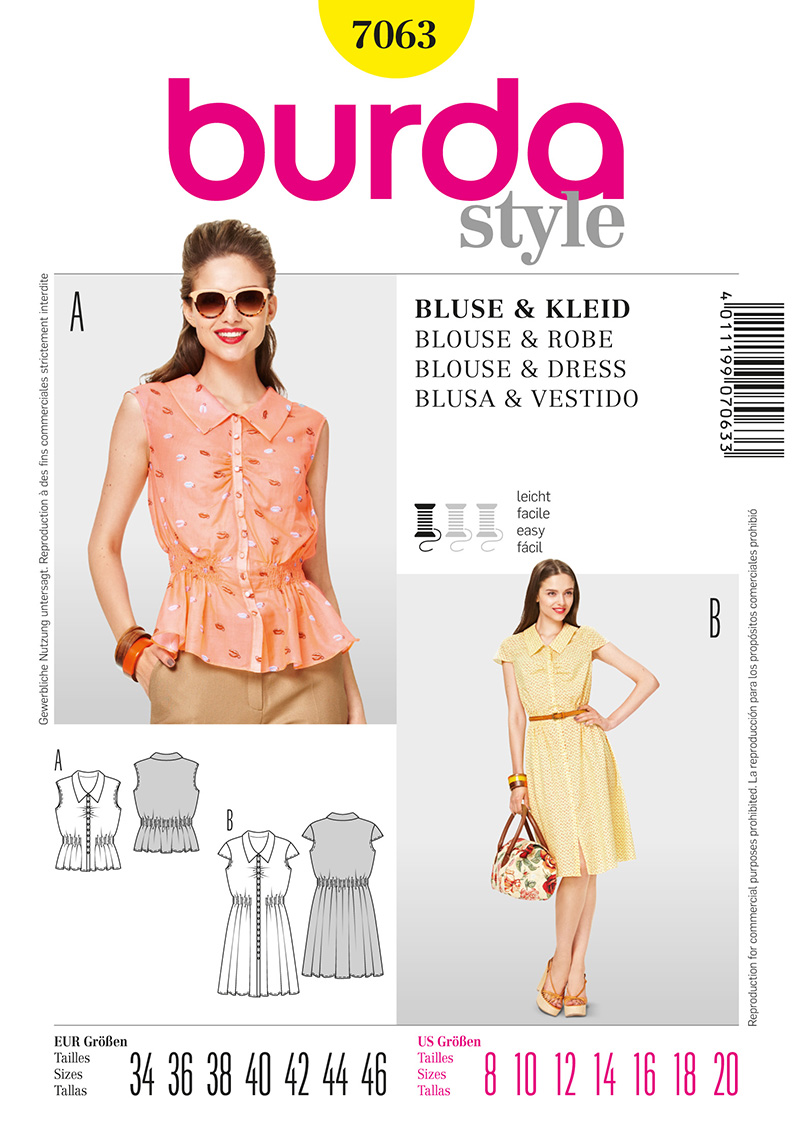 Moving on to Burda Style 7063: not only did I forget to transfer the front bodice markings indicating the gathered area at the chest, but I also did not transfer the bust width measurement of this blouse. So I had to pull out the pattern tissue (boooo) and add the missing information. The largest size is a 20 (European 46), featuring a 41″ bust. The sizing was weird; the next two sizes down were 39 1/2″ and 37 3/4″ busts, as opposed to 39″ and 37″ as BMV would have had. Regardless, I'd need to add much width and some length to the few pattern pieces. Bones was getting pretty good by this point, and my bestie had gone to bed.
After three hours, I had three patterns that were still too small to sew and jumbled emotions due to the personal drama occurring among the characters on Bones. And I was suddenly very tired.
It's sadly unrealistic to believe or expect businesses will or should cater to fat customers, but it is frustrating that I have to do all this extra work when all I want to do is sew. I love sewing. I am happy to give money to companies that make patterns for me and source fabric and notions for me, so I can focus on easily creating. I don't mind using my knowledge to ensure a perfectly fitting pattern, but…frankly, for all the work I put in, I might as well draft my own patterns from scratch and hack them to make different designs. Why bother with too-small patterns?
I don't want to have to start a business in order to have patterns in my size. More importantly, if li'l ol' self-trained me can enlarge a size 22 pattern to fit my size 30/34 body, what is stopping pattern companies from doing so? Could it be that their software, their staff, and their resources combined are not as good as…me? (GUFFAW) Seriously, though. I am the only fattie in the world who wants life to be normal and easy sometimes? Am I the only one tired? I just want what I want. I have the dollars…can someone please serve me, so I can give them away?