I subscribe to a bunch of ladies' fashion magazines: Elle, Marie Claire, Harper's Bazaar, Vogue, and now Cosmopolitan (is Cosmo a sex mag or a fashion mag? hmmmm), and diligently read them looking for both fashion direction and beauty product recommendations. The recent March issues of these mags gave me a sense of what is coming, trend-wise, for spring — I noticed that the black/blue/white color scheme is going to be on trend again this year, that chunky shoes are coming back (EW EW EW), that the tribal trend has morphed into a  geometric print trend, and skirts and dresses are still winning the battle over pants. I've also personally noticed young women wearing sweatshirts (ew) and raglan-sleeve tops that are a cross between sweatshirts and long-sleeved T-shirts.
But it's easy to notice some trends and not others, due to personal preference. So, in a bid to be a little more objective, I've pulled the trend reports from several online sources: Glamour, InStyle, Huffington Post (Canada), New York Magazine, Vogue, and Telegraph (UK). Here's what they have to say …
The #1 trend for spring is … tea-length, full skirts! Every source I found mentioned these. Kind of like last year's high-low hem (aka mullet hem) skirts, this style is easy  to wear and flattering to pretty much everybody.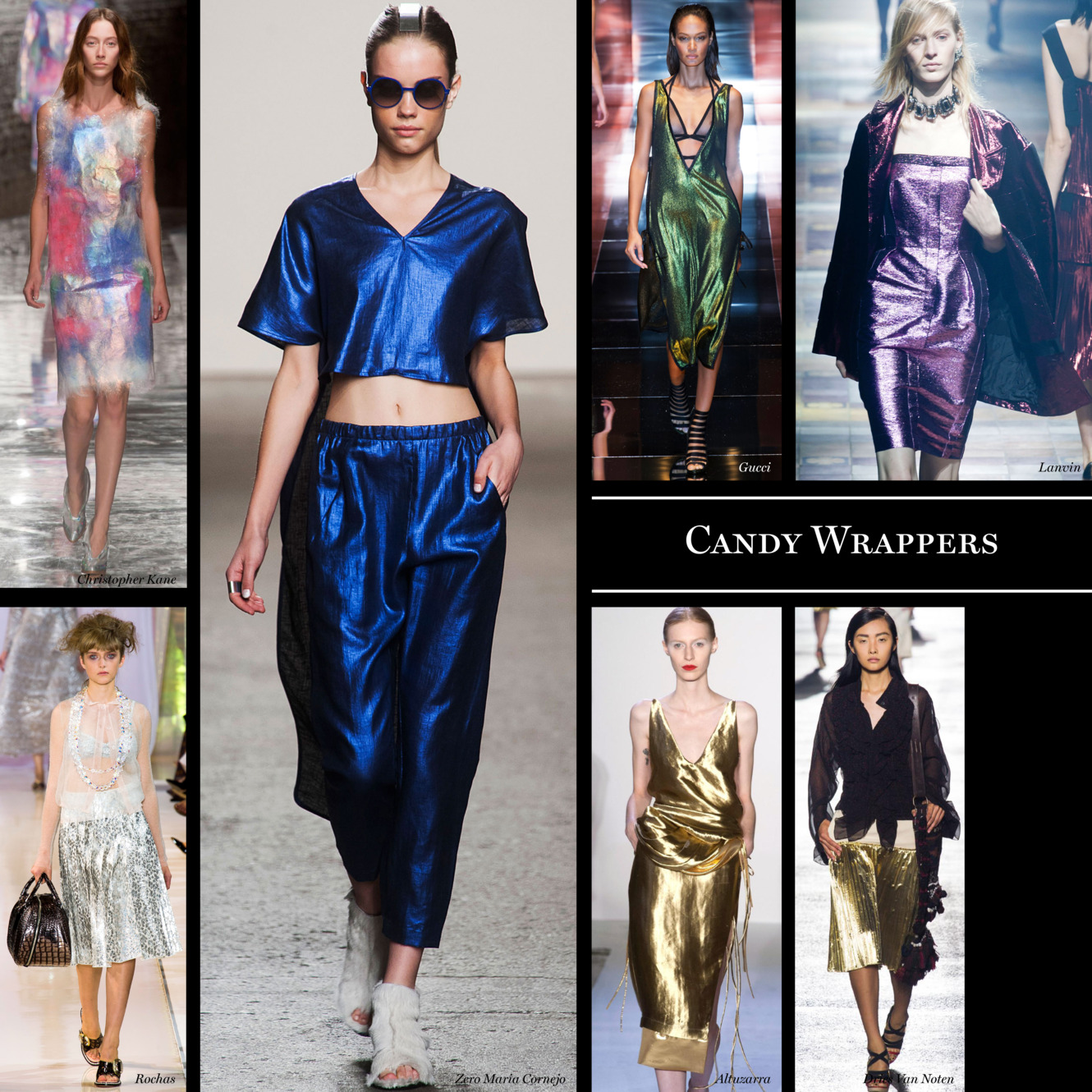 At #2, we have three trends, two of which kind of conflict … and naturally, have me wondering if I could combine them in one outfit without looking like an escaped mental patient. I'm talking about pastels and metallics, of course! The third trend here is the sporty  look: think mesh, biker and bomber jackets, racing stripes, etc. Five of the six sources mentioned each of these trends.
Coming in at #3 are all great pieces to wear to the office: button-up shirts, wide leg pants, and shift tops. The button up shirts, though, are not the standbys you are used to! This year offers us white blouses with funky and unusual details, and colored blouses with contrast collars — that trend we saw last year, so it will be nice to wear those tops again this year. The wide leg trouser trend should look good on pretty much everyone, but may require heels for ladies with shorter legs (and ladies who are shorter/thicker in general). I'm excited to have an excuse to make Vogue pattern 8955! One other word to the wise about these pants: SOLID COLORS. I cannot imagine the trainwreck of giant prints in a busy pattern. Hm … have I just challenged myself again? Alas. As for shift tops, these are pretty easy to sew and probably don't even require a pattern! Yay.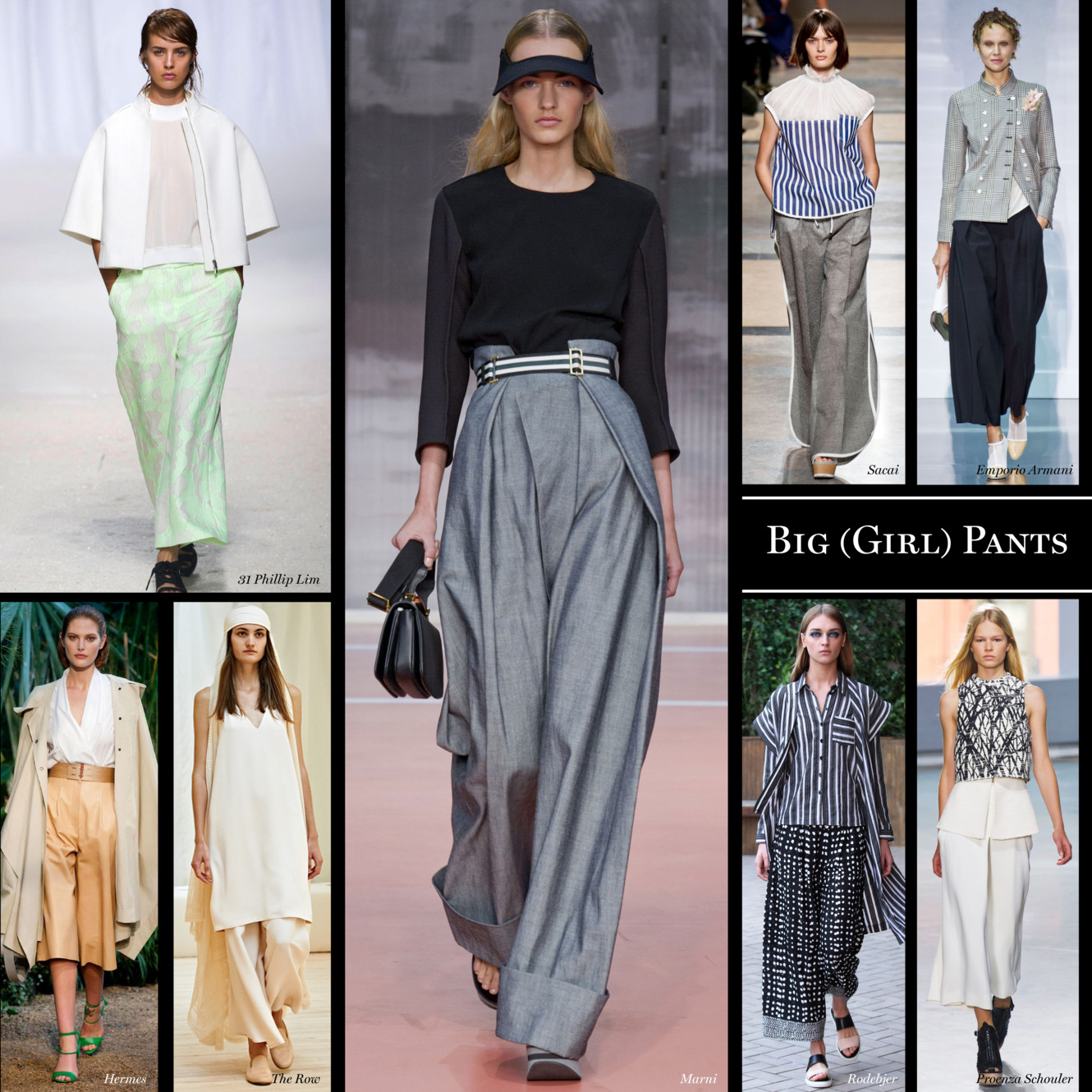 Honorable mentions go to the following trends, which only half or fewer of my sources recommended for Spring 2014.
1. Coats
2. Sweaters & Sweatshirts; Geometric Prints; Pleats & Ruffles
3. Suits; B&W; Color Blocking
I notice that these trends are the ones that I see people actually wearing, so I wonder if the fashion outlets are out of touch with what is easiest for the average woman to wear. More likely, it's that most women don't have the time or inclination to deal with trends, so the stores where they shop offer the simplest, most timeless but still current offerings.
At any rate, now you know what's in for spring! Are you planning on making any on-trend purchases?
Save