I'm likely the only person under fifty who eagerly looks through her Talbots catalog as soon as it arrives in the mail, but they're always on trend and have cute things. Even if it's trendy, cute things for well-off retirees. Anyway …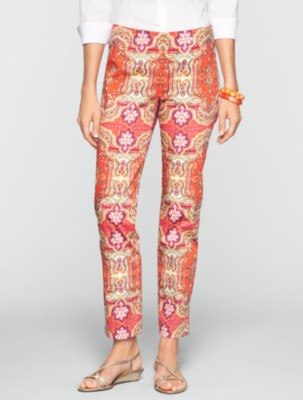 I'd say these pants caught my eye, but that would be an understatement. Holy moly are they excitingly loud! I picture a creative, confident, well-dressed 60-something year old lady wearing these pants … maybe with a Koos van den Akker coat in dark colors, to balance things out? I'm not as adventurous as that, but skinny red ankle jeans with cuff and details in a busily patterned fabric are definitely doable.
Sometimes I see a pattern and feel dubious about it's potential. This is generally because there are still so many cuts and styles of garment I've never seen on my body, so it's tricky to envision the 2D line drawing as a finished garment. Lekala released a new dress pattern the other day which I liked at first, then felt unsure about. The Talbots dress is similar, and definitely a winner: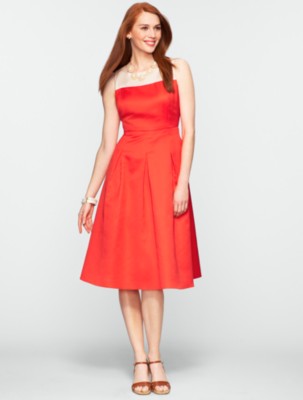 At under $3, getting the Lekala pattern and making my own dress is cheaper, more special, and better fitting than shopping at Talbots. #sewingwin!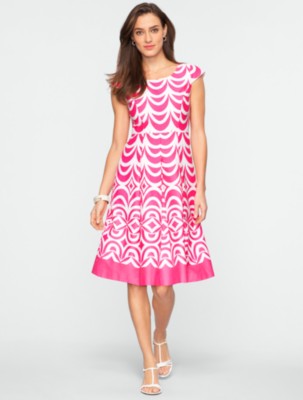 This is the other Talbots dress which is similar to Lekala 4357, this time with the color blocking at the bottom.
I didn't see any other noteworthy pieces than these, which is unusual for Talbots & me: I usually mark up half the catalog with little 'want' stars. And while I don't have the funds now, I do own enough pieces from Talbots to vouch for the garments being worth the money they ask for. Better fabrics, better stitching, better fit, than you can find in more affordable stores. I definitely recommend avoiding Target for awhile, and spending the money you save on one good staple from Talbots.
Save